Oppo F7 Is One Of Best Camera Phone At Reasonable Price
Oppo F7 is affordable, powerful and packed with impressive cameras. Oppo has managed to sell millions of phones because of powerful cameras that can easily capture what can inspire others. The company focused on cameras of all lineups deeply, this is what led it to become one of the best smartphone brands in the world. When going on vacation, many will happily photograph themselves against the sea or attractions, and then publish anywhere they like. Therefore, the demand for good front/back camera is quite stable for years. With this in mind, the company introduced the new OPPO model F7 "line is its distinctive feature was the massive front camera on 25MP with the support of artificial intelligence. How it works and how it is notable — you should read this Oppo F7 review to generate a result. In past, there was Oppo Find 7 and now we have F7, another impressive Oppo mobile with the figure "7".
Specifications:
Screen: LTPS display, 6.23-inches, 1080 x 2280 pixels resolution

Processor: MediaTek Helio P60, Octa-Core 2.0Ghz

GPUL Mali-G72

Memory: 4GB RAM, 64GB ROM, SD card slot

Connectivity: Dual SIM, 3.5 mm audio jack, USB, Bluetooth 2.0-4.2, Wi-Fi 802.11 a/b/g/n/ac

Camera: 16MP, f/1.8 aperture, phase detection, flash and more

Front Camera: 25MP, f/2.0 aperture, face detection, AI support, HDR, and more

Sensors: Light sensor, gyroscope, accelerometer

Battery: 3400 mAh

Dimensions: 156 x 75.3 x 7.8 mm

Weight: 158 grams
Pros:
Impressive Cameras

Advanced selfie-camera with artificial intelligence technology

High-Res Display

Fast Performance

Unlock the screen face recognition
Cons:
Body and Design
It looks gorgeous in hands, the company's logo and an indication of the number of megapixels front camera is immediately evident positioning model on the box do attract. What you get out of the box? You get a phone, headsets, the key to access the SIM card tray, soft silicone case, documentation, and charger. When you pick it to hand, you should feel it shiny. The top and bottom frames are small, you do not get a scanner (like older devices) and logo of a company. The rounded edge of the display, which looks quite neat. The phone is large but gives a feeling compact device. On the front, you get a few sensors and a camera. On the left brink, Oppo F7 has a separate volume rocker. The lock button located on the right edge, and just above it is a tray for two SIM cards and memory cards. The good thing is that the developers did not go on about trends have combined to make slots. OPPO F7 has a charging jack bottom just like dozens of other devices available in the market, the speaker with microphone and 3.5 mm audio jack. Instead of the USB port Type-C with some surprise, you still get Micro-USB, which on new smartphones are already a thing of the past. Fingerprint scanner playground is located on the back side of the device.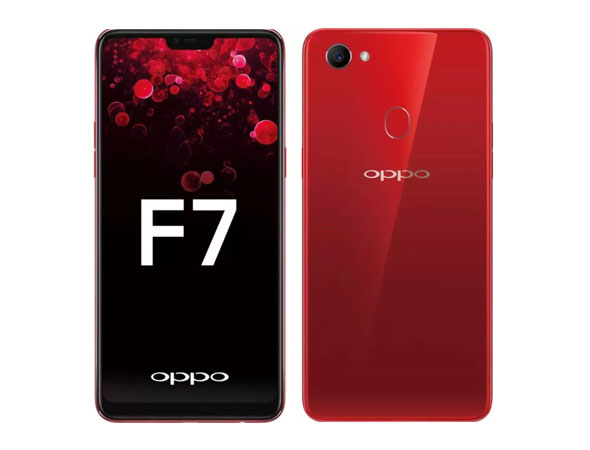 It has a notch, yes, this is Oppo smartphone with a notch. You can comfortably operate the phone. In use, however, it is possible with the ability to change the location of the navigation keys or even hide them, entrusting the management of gestures. In addition, a floating button is activated for added convenience. It can be placed in any part of the screen and use it to perform various actions. Switch between applications, take screenshots and even put the smartphone on the lock. The finger immediately finds the pad of the fingerprint scanner on the back panel, to reach it is not necessary. The body is assembled on the conscience and well resists attempts to bend it. No backlash and squeaks for all the time of testing were not found.
Display
On top of the display is glued protective film from the manufacturer, and it is a fairly high-quality coating. The display has an impressive resolution experience, it has 6.23-inches display and a resolution of 2280 x 1080 pixels. Image quality is high, saturated colors, good image clarity, and the brightness reserve allow you to comfortably use the device in daylight. The smartphone prompts the user to calibrate the screen to their own taste by choosing a warmer or cooler shade. In the settings, there is also a possibility to lock the display in portrait orientation. For individual applications, you can customize their display in full-screen format. Separately I would like to note "Night Mode", designed to protect the eyes when reading or lack of lighting around. In OPPO F7, you can not only activate this function but also adjust its color temperature, turn on schedule, as well as make the screen black and white. In the settings menu will turn to set the information that is displayed in the status bar, for example, traffic volume and speed of data transmission. You can also configure notifications. In the advanced settings are managing downloads and keyboard, enabling and disabling Smartphone on schedule and other useful features. Oppo mobile price normally does not get very high but a list of features go impressively high.
Processing Power and Speed
OPPO F7 is packed with a MediaTek P60 Helio processor, working in tandem with 4 GB of RAM. This ligament was enough to tense game battles. When the device warms up not much even with a serious load. In benchmarking AnTuTu device knocks 139311 "parrots", this is the good result that a phone of this range should offer, at least this range of phone. On the maximum graphics settings, the frame rate rarely rises above 31 fps on different apps. If you set the graphics to the minimum values, the 59-60 fps are provided.
The apps are not bad, but how does the smartphone manifest itself in everyday tasks? The device works quickly, applications open without unnecessary delays, micro-blogs in the interface are absent. Fast-fingerprints are recognized instantly and almost without errors. And also OPPO F7 supports face recognition function, and it works here on a conscience. At least, the machine precisely detects the user even with a large tilt of the case, and if the lighting is insufficient, activates the backlight. This adds to the ease of use, and to this method of unlocking quickly get used. The main speaker is loud enough to not miss a call in a noisy environment. There are no problems with the intelligibility and quality of the voice of the interlocutor.
An Excellent Camera
Start browsing the OPPO F7 should exactly from a camera. The rear camera is represented by one module with a resolution of 16 MP and Aperture F/1.8. The application interface is minimalistic, in the upper part there are few settings, and at the bottom-the choice of modes between which flipping swipe. The same can be said about the footage, made on the premises. And even if the light around slightly lacking, optics with a good aperture ratio comes to the rescue. Quality photography day high: the sharpness of the images have good but not excessive, and color reproduction is very impressive. There is also the expert mode, where you can change the shutter speed and ISO values, manually set the focus and white balance. It has an impressive resolution in 25MP, dongle and HDR support AI SelfieTune 2.0. In use, the OPPO F7 is one of those rare smartphones, which does not want to immediately disable technology to improve the appearance. In contrast, artificial intelligence manages to add clarity lashes, eyebrows, and hair, but these details often fall victim to offer great result.
With a photograph of the text, there is no difficulty, it is not spread out and good to read. HDR mode work on OPPO F7 visible to the naked eye — "pull down" dark glasses image increases the granularity of small items. For macro focus help, you set manually because the Smartphone problems often occur in this story. However, it should show a little patience, and you will be pleased with the outcome. Built-in Flash allows you to shoot in the face of the expressed lack of lighting. Smartphone knows how to shoot panoramas, but the quality of gluing frames often limps, and the result can be immersive. To get a good result at times you want to make five or six takes, and preferably no moving objects. Not enough bright colors? A super Vivid mode is present not only on the front but also on the main camera. Ideal if you want to see the sky more blue, and grass is more green than they are in reality. A gadget is capable of delivering good quality shots even in poor light conditions. However, it is revealed that the dark advance goes to manual mode — sometimes equipment overstates the ISO is stronger than required.
Artificial intelligence SelfieTune 2.0 analyzes a person based on a variety of characteristic points and decided that in this case, you want to hide and that you want to underline. OPPO F7 really tries to make you prettier, smoothing wrinkles and removing circles under the eyes. Even expressed "beauty" works quite delicately, without turning the person into a plastic mask. It can also shoot wide angle shots. For this purpose it is necessary to make three pictures in a row, slightly turning the device in his hand. A good option for those who want to capture the environment on vacation or placed in the frame of the great company.
Super Vivid mode makes selfish bright and colorful. A filter in Instagram overlay does not necessarily — and without a smartphone, you will represent "a beautiful life". There are also changes, the depth-of-field shooting can artificially blur the background. The boundaries of objects may be outside of the area of focus. However, if you wish, and some touch of perseverance is quite actually get and very decent results. Among other features of the front camera, recording accelerated video, adding a variety of stickers in the frame, gesture, and imagery in HDR mode. The quality obtained on its front camera shots all you wish hard to find fault. Moreover, the result is quite comparable to the level of the flagship smartphones this year.
The Battery Life
OPPO F7 equipped with fixed battery at 3400 mAh. At first, it seems that diagonal screen is not the most impressive figure, therefore a good autonomy and not expecting. But it can surprise with the long-lasting battery. Good results and shows the device during normal use, so you don't have to worry about having to often charge. Even using high-end apps and not getting out of social networks, you can count on night work. Well worth the burden and around two days without recharging do not become a problem for the OPPO F7.
Conclusion
Modern trends like a cut big screen in OPPO F7 combined with lack of NFC and "not fresh" Micro-USB connector. However, it should include a front-facing camera, as it becomes clear what created this model. It is an ideal solution for those who wish to add "the beautiful life" and new subscribers in its Reasoning. The quality of the self-portraits of the anterior chamber OPPO F7 is comparable with more expensive devices, it doesn't exactly impress girls. Besides the smartphone got a spectacular screen and decent working hours without recharging. An interesting proposal in its class.
There are many rivals to compete with this phone and some top of them are Vivo V9 and Xiaomi Mi A1. Overall, this phone has managed to impress the world and get ranked under best smartphones in mid-range markets of the world. This Oppo phone price is just around PKR 40,000 and its package of features is impressively huge. Oppo has again entered a market with a beautiful and powerful option you can buy.